Regular price
£291.65 GBP
Regular price
Sale price
£291.65 GBP
Unit price
per
Sale
Sold out
Description

Care advice

VAT Relief
MIA
Colour shown: Silky Sand
100% Modacrylic Effortless™ Fibre
Mid-length beachy wave style, free-flowing layered waves create natural body and movement.
Mia by The Classic Look is a ready to wear mid-length gently curled style with free flowing layered waves that create natural body and movement. The 8" fringe sweep to the side.

Mia wigs feature a machine made cap construction with with a lace front and lace side part. TressAllure designs are meticulously crafted with advanced materials and fibres that perfectly mimic radiant, natural looking hair.
Mia has Tress-Natural soft, light and natural exclusive Effortless Synthetic Fibres which was developed to match the same density and weight as fine human hair. The Mia wig was custom designed for unparalleled comfort and a secure fit.

ADDITIONAL FEATURES for Mia
1.25" Lace Front creating an undetectable hair line
Left Lace part for an undetectable part line
Soft net on the rest of the crown for ultimate comfort
Lateral wefting- Stretch wefting provides secure comfort fit. It molds to the contours of the head for a customized fit
Cap Size: 22″ (56 cm)
Fringe: 8″ (20.3 cm)
Crown: 11″ (27.9 cm)
Nape: 8½″ (21.6 cm)
Weight: 2.4 oz. (68 g)
Caring for synthetic wigs and toppers can be quick, easy and stress free by following just a few simple tips and tricks.
Always use a wig brush or wide tooth comb to gently remove any tangles from your hairpiece.
Fill a sink or bowl with cold water and add a cap full of synthetic fibre wig shampoo to the bowl. Gently agitate the water to foam.
Submerge your hairpiece into the water and gentle swish from side to side for a few moments before leaving to soak for 5 to 10 minutes.
Once soaked, drain the water and rinse your hairpiece under cold, clean running water to remove all the bubbles before gently squeezing the hairpiece to remove the excess water.
your squeaky clean hairpiece can now be blotted with a clean towel and left to air dry.
TIP! We find washing our wig in the evening and allowing it to air dry over night to be very helpful.
Washing your human hair wig or topper can feel scary at first but don't fear as we are here to help!
Gently remove any tangles from your hairpiece using a wig brush or a wide tooth comb.
We recommend pinning your human hair wig or topper to a care head to wash as washing this way helps to stop inversion of the hair.
Using your shower head (or a jug and clean warm water) wet the hair down and then apply a small amount of shampoo to your hands, working it down and through the lengths of the hair. DO NOT SCRUB as this can cause tangles.
Rinse thoroughly with warm water and repeat the process using conditioner being sure to avoid letting conditioner settle on the base for too long a period as this can cause shedding of the hair. Rinse well.
Squeeze out the excess water from the hair and blot dry with a towel. You can heat dry and style on the care head or remove and leave to air dry if you'd prefer.
If you are purchasing a wig from us due to a medical related hair loss condition such as Alopecia, hair loss due to Chemotherapy treatment or hair loss and thinning due to medication then you are entitled to claim relief from VAT on wigs and toppers.
For every order you place we require by law that a VAT declaration form be signed and returned to us.
You can submit your VAT declaration online via our website here - https://aspire-hair.com/pages/claim-vat-relief
Our online form will take just a moment to fill out.
PLEASE NOTE: False declaration is a criminal offense. We require a completed VAT decxlaration form with every order placed via our website should you be VAT exempt. Failure to return the VAT declaration form enclosed with your order will result in you being invoiced for the VAT.
Share
View full details
More about Aspire Hair
We believe that everyone deserves to feel confident and beautiful, and
we are honored to play a small part in helping our customers achieve
that. So if you're looking for a wig that not only looks great, but
feels comfortable and natural, come visit us at Aspire Hair and
experience the difference for yourself!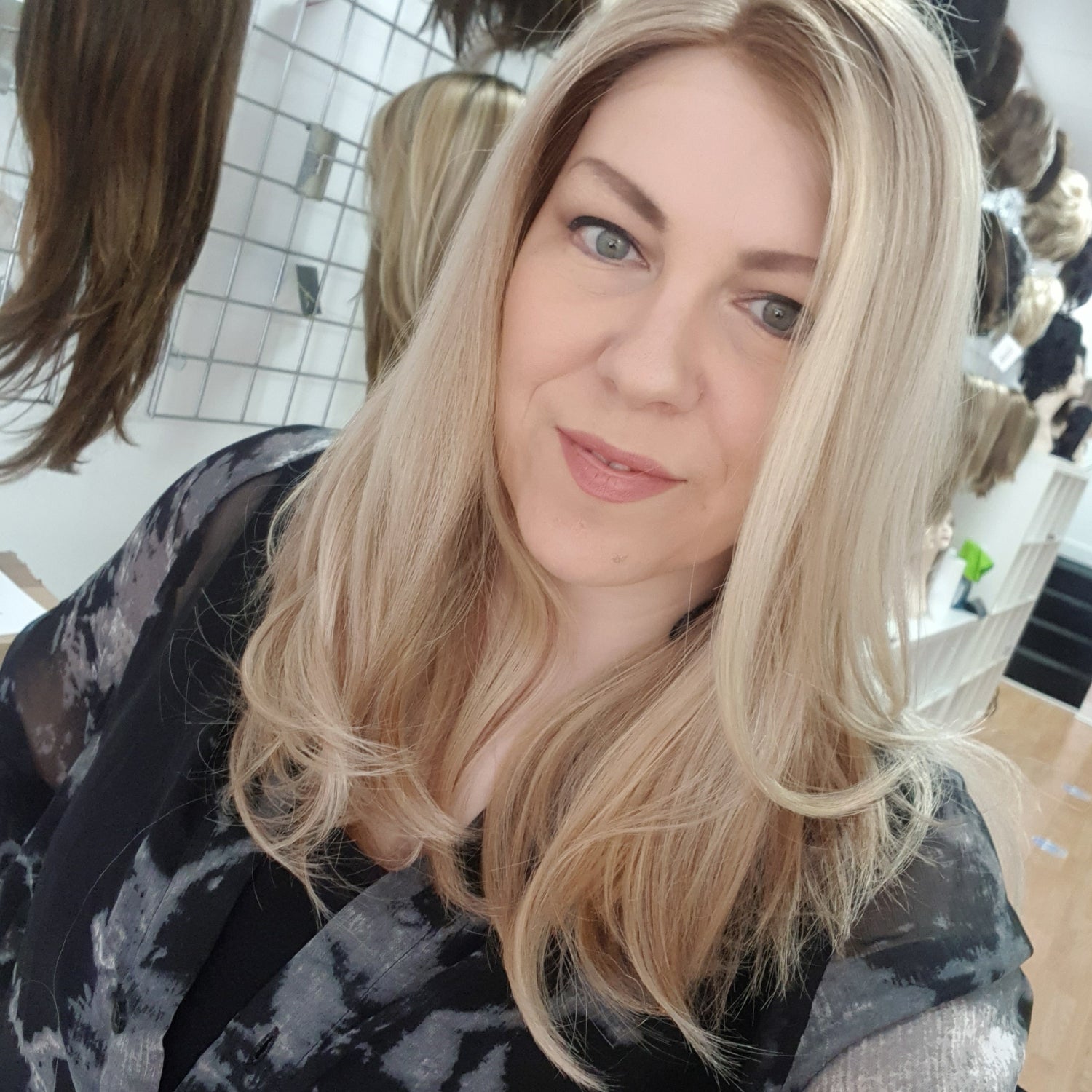 Let's get to know each other!
I'm Emma, and I founded Aspire Hair in 2010 as I had become frustrated in trying to find a place where I can try and buy wigs and have a positive experience with someone who understand how I felt as a bald women with alopecia. Aspire is my passion in life and I'm so excited to have you here as part of the Aspire family!